• Good Food Fest • Local Food • Organic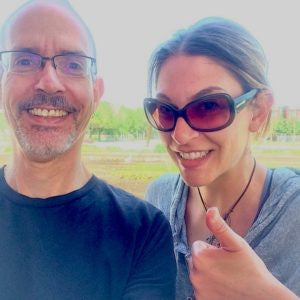 Sourcing locally is a commitment that is both rewarding and frustrating for a chef.
When my wife Lori and I started White Oak Gourmet — our home meal delivery service in suburban Chicago — 13 years ago, it was quite difficult to source organic and local. It is easier now, but challenges remain.
Up until just a short time ago, we had to chase down our chicken order on the truck from Gunthorp Farms, an Indiana producer of pasture-raised livestock that built its business around purveying directly to leading Chicago restaurants. As they did not deliver in our area at the time, we would sometimes have to meet the driver at Lula Cafe or behind Frontera Grill.
Occasionally we have what sometimes feels like clandestine meetings to pick up orders from our farmers in the alleys behind restaurants such as Floriole, Hopleaf and The Bristol in Chicago.
---
• Good Food Fest • Local Food • Localicious • Parties
  The Local Food Party of the Season! March 20, 2015  7:00 - 9:30pm UIC Forum725 West Roosevelt Road Chicago, IL 60607  Join us as we serve tasty bites to support the Good Food Movement and FamilyFarmed.org  You'll mingle with other local food enthusiasts at  Localicious!  The party pairs family farmers with chef-driven restaurants for a sampling of homegrown cuisine and craft beer, wine, and cocktails.   Celebrate the farmers who grow our food and the chefs who transform it! When: Friday, March 20th from 7:00-9:30pm Price: $95 at the door,  $80 in advance!   
---
• Health • Local Food • Nutrition • Organic
Michael Ruhlman does great writing on food and cooking, but he also writes about our food system and healthy eating. His recent blog post about how our eating and cooking habits have changed in the last 100 years. His discussion with doctor Roxanne Sukol highlights several major changes in our food supply that have resulted in our current epidemic of obesity, diabetes, and other chronic illness. "Obviously the tidal wave of diet books and diet advice and fad diets hasn't worked, since the problems have only increased. Indeed, he suggests that diet books and trend diets may be a part of the cause."...
---
• Health • Local Food • Nutrition • Organic
by Anna Lappé via Time Just in case you're undecided, we will make the case on why your kids should be eating organic A poll out last week from the Organic Trade Association found a sharp decrease in parents who say price is a key factor limiting their organic purchases. "Parents in charge of the household budget recognize the benefits of organic," said the trade group's Laura Batcha. "And they're willing to pay a little more to know that they are giving their families the highest-quality and most healthy products being offered in their local store." We can already hear...
---
• Health • Local Food • Nutrition
You may have heard this term thrown around lately. Nutrient dense foods contain the micronutrients; vitamins, minerals and trace elements that we need for optimal health. Consume these foods and they will help your body to acquire more: Vitamins A, E, K, C, B, Folate, Zinc, Magnesium, Omega 3 Fatty Acids, a wide range of antioxidants, and micronutrients to help support your liver and detoxification systems, as well as your immune system. That's a lot to keep track of and most of us don't have the time. Basically you want to focus on food that is minimally processed and close to...