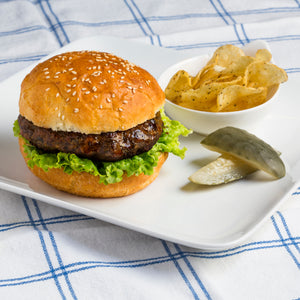 White Oak Gourmet
Black Bean Burger
Regular price
$9.95
$0.00
Unit price
per
Add a kick to your plate with this bold Black Bean Burger. Made from scratch with vibrant southwest flavors, it's not only delicious but also nutrient dense for an adventurous meal that's good for you. Ready, set, eat!
Black Bean Burger: Black beans, brown rice, southwest seasonings, onions, corn, sweet peppers, garlic, olive oil, grapeseed oil, potato starch. South Side Burger Buns:  flour, water, egg, butter, milk powder, sugar, salt, yeast:
Each burger is 7 ounces pre cooked weight and is served with bun, potato chips and condiment. Vegan & Gluten Free - Except Bun
Nutrition:Burger:  7 oz / 168 grams - 268 cal,  9 gr fat, 38 gr carb, 9 gr protein.South Side Burger Buns:  3 oz / 75 grams - 287 cal, 6 gr fat, 50 gr carb, 9 gr protein.
---