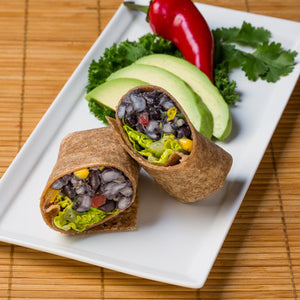 White Oak Fresh 2 U
Gluten Free Black Bean Avocado Wrap
Regular price
$5.95
$0.00
Unit price
per
A Tasty Vegetarian Wrap: Organic Black Beans with avocado, corn, green & red onion, sweet peppers, roasted poblanos, lettuce and pickled radish & carrot on Gluten Free spinach wrap.
Choose Wrap Only or Travel Pack with salsa and garnish.
Nutrition: Wrap: 5 oz / 113 grams - 226 cal, 9 gr fat, 18 gr carb, 20 gr protein.
---